Event details
Saturday | July 14, 2018 to Sunday | July 15, 2018
All Day
Forbidden Power Triq Misrah il barrieri Msida
21 227 999
Pre-Set Drafts
Celebrating the launch of the new set draft weekend consists of a weekend entirely dedicated to the drafting of the new set. There will be 2 main drafts during the weekend as follows:
Saturday at 1400h

Sunday at 1000h
All Boosters Drafts held as part of Draft weekend carry additional prizes in the form of promos as shown below.
We can have multiple pods (8 players equal 1 pod) at both times indicated above running in parallel. In addition as soon as 8 players sign up (even if outside the above mentioned times)  a mew draft can start!
On Demand Drafts
You as players will have the opportunity to set up your own draft. If you cannot make it to one of the officially scheduled drafts, or you are a group of friends and wish to have a draft amongst yourselves, we can organise it for you. Simply contact us and provide us with the time and specifications which best suite your availability.
We will do our best to organise the draft for you and you will still be eligible for the Draft Weekend Promo offer.
Additional Info on the Event
Fee: €10 per draft

Format: Sealed (booster Draft)

Maximum and Minimum Participants per draft: 8
Prize Allocation
Prize allocation for Booster Drafts depends on the entry fee paid as follows:
€10 – 6 Booster packs (Distributed 3;2;1)

1x Premium FOil, Alternate art, Participation Promo to every participant
The promo for the Core Set 2019 Draft weekend is: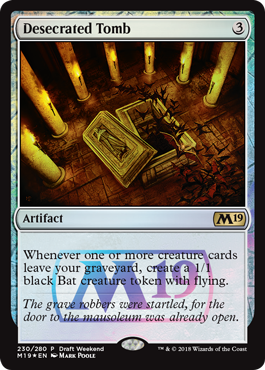 Comments
comments